At McDonald Land Services, we share a fundamental respect for the environment and constantly strive to improve the overall quality of life in the communities where we live and work. As a company and as individuals, we prioritize our time and resources to serve these communities in many different capacities.
Community Service Initiatives
Our community service initiatives are driven by our passionate employees. Organizations that we're proudly involved in include:
Big Brothers Big Sisters of Oklahoma
OU Children's Hospital Dog Therapy
Oklahoma Backpack Program
Regional Food Bank of Oklahoma
Oklahoma Humane Society
American Heart Association
City Rescue Mission
American Foundation for Suicide Prevention
McDonald Land Services
donates to Food For Kids Backpack Program
"On behalf of the kids we serve, I extend our heartfelt thanks for your generous gift. To say that your gift helps to fund a worthwhile effort is really an understatement. Not only does your gift ensure that we can meet the financial challenges of obtaining appropriate food items, it opens the door for us to pursue numerous possibilities for improving upon what we offer our kids. 
It is my fervent hope that one day all our kids will look forward to Fridays because of the weekend fun that's coming. In the mean time, our efforts toward relieving their hunger will continue. Your gift will play a significant role in that effort."
– Barb Gibson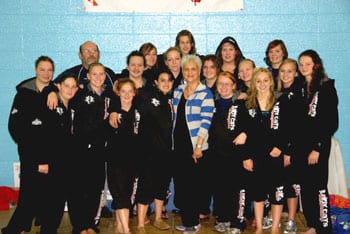 Ella McDonald from McDonald Land Services with the Ladycat Swimmers from Douglas, Wyoming.
McDonald Land Services Supports the Ladycat Swimmers
McDonald Land Services provided these nice and warm sweat suits for the team. The girls have really loved having these as it shows their team spirit, keeps them warm and as they say… look cool!
Ella cares about the community in which her company is represented, and has been a returning corporate sponsor for our high school girls. We as the Booster Club Parents for the girls swim team, thank Ella McDonald and her crew for caring about our youth!"